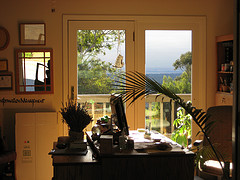 Small Office Home Office (SOHO)
Legal Information Management is a small, woman-owned business using database technology to manage and publish important information on desktops, networks, and the Web. It was founded in California in 1984 by yours truly Ann DiLoreto, MSLIS. And, after 25 years in Emerald Hills overlooking Silicon Valley, I relocated my small home office to Hawaii.
Librarian and Information Scientist
After earning a Master of Science in Library and Information Science (MSLIS) at Simmons Graduate School of Library and Information Science and managing a private law firm library for eight years, I left Boston for Silicon Valley to start Legal Information Management. Since the early days of the dot com era, I've helped many librarians automate their libraries and, over the years, produced seminars and training workshops and have articles published in industry trade journals.
Clients
The latest project is the Simon Wiesenthal Center Digital Archives, supporting tolerance and civil and human rights. Since 1984, Legal Information Management has provided database solutions to over 450 firms. Besides private law firm libraries, a wide variety of industries are represented:
economic think tank
historical research library
seminary college
intelligence & security contractor
advocacy group for rural poor
public works department
private art museum
medical device manufacturer
county court library
local public utility
employee advocacy foundation